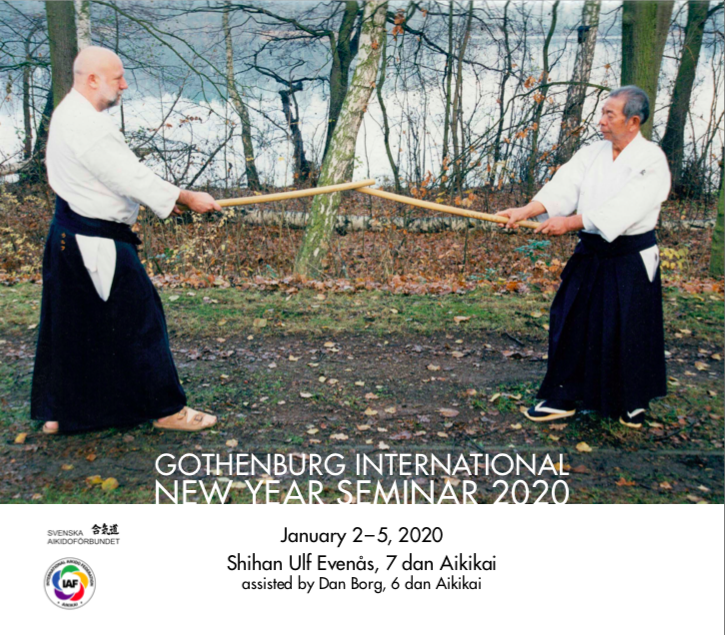 Kan–geiko is a traditional training at the coldest time of the year, and through overcoming this hardship, you start the New Year as you want the rest of the year to be.
Gothenburg Aikido Club has been organizing kan-geiko for more than 25 years. Aikidoka from all over the world have been coming to practice Traditional Aikido under the supervision of Ulf Evenås Shihan. Ulf Sensei will teach Takemusu Aikido – taijutsu, ken and jo, as learned directly from Morihiro Saito Shihan as a close student for 29 years. In 2019, Ulf sensei has been training Iwama Takemusu Aikido for more than 50 years!
He will teach ken and jo, as described by Morihiro Saito Shihan in the five Mokuroku (transmission scrolls), and it ́s many variations. We will practice Taijutsu from basic forms to ki no nagare, and explore the relationship (riai) between ken, jo and taijutsu. The seminar is open to everyone, regardless of rank or "style." This is an occasion when aikidoka from all over the world come together to meet old friends and make new; but most of all – to practice Aikido in the spirit of Morihiro Saito Shihan. We will practice at Frolunda Judo Club, with 360 square meters of tatami, fully equipped kitchen. From the dojo it is walking distance to a shopping center, and the public transportation to the central part of the city is excellent.
Uchideshi week
Followed by the seminar, there will be an uchideshi-week taught by Dan Borg 6 dan, and Günter Annby 6 dan, both top students of Ulf Evenås Shihan. Don't miss this opportunity to practice under, and get to know top instructors from the newer generation.