The Gothenburg Aikido Club has a long tradition of organising two events every year – the New Year Seminar and Uchideshi weeks after Midsummer. The mid-winter training and the mid-summer training are old traditions from O´Sensei's time. For more than 20 years Aikidoka from all over the world have stayed as Uchideshi during these periods at the Gothenburg Aikido Club and trained under the supervision of Shihan Ulf Evenås 7 dan.
In recent years the popularity of the summer event has increased, so in 2008 we changed the program so the students could stay outside the dojo. We call this our Sotodeshi program. To keep the close "family" feeling however, the number of students has been limited.
This year Aikidoka from eight different countries were represented: Denmark, England, Germany, Lithuania, Malaysia, Mexico, Russia and Sweden. Here you can meet some of them and also take part of their Aikido-anecdotes.
*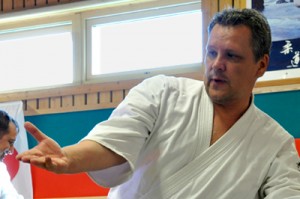 Oleg Yakimov Sensei 5 dan, from St. Petersburg in Russia, has been practising Aikido since 1989. He is dojo leader for Takemusu Aikido St. Petersburg together with Yuri Davydov Sensei. He is also Vice-President of International Euro-Asian Aikido Federation, President of Takemusu Aikido Russia and Member of board of National Aikido Council in Russia.
Together with Yuri Davydov Sensei, Oleg Yakimov Sensei has organised many seminars with Ulf Sensei in various cities in Russia. He has also attended seminars with Ulf Sensei in Denmark, Finland and Georgia and has been visiting the Gothenburg Aikido Club to participate in regular classes.
I am a student of Ulf Sensei for more than 20 years. I like to participate in his seminars. For me Aikido is a manner of life. What we do in Aikido is exactly the same as we do in ordinary life.
I have a story about a 70 year old man from a Takemusu Aikido dojo, who had only been doing Aikido for six months. Once he was on his way home and went through a construction site. There he fell into a big shaft and made his way up from it. His wife went to the instructor and said: "I am glad he didn´t break any legs". This man had gained very good ukemi.
*
Susan Wong 3 kyu is from YMCA Aikido Club Kuala Lumpur, Malaysia. She has been practicing Aikido since 2003.
This is her first visit at the Gothenburg Aikido Club. Before that she has attended seminars with Ulf Sensei in Malaysia.
Aikido can be both physically strong and soft. I really like the nice and graceful movements.
I think it is interesting to come here to learn from Ulf Sensei.
Once I went to a IAF seminar in Japan. The training there was very intensive. I tried to survive those classes and I really learned something from there. So when I came back to YMCA and practiced I felt the classes were so relaxed and easy.
*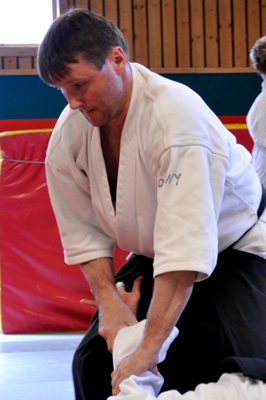 Johnny Sørensen Sensei 4 dan, from Aalborg in Denmark, has been practising Aikido since 1993. He is dojoleader for Aalborg Aikido Klub.
Johnny Sensei has been uchideshi and sotodeshi at the Gothenburg Aikido Club many times and has been to several seminars with Ulf Sensei in Denmark and Sweden.
With Ulf Sensei I get the best training I can get. I have a close relation with him. We come here every year and he comes to us once a year. From Ulf Sensei we get the direct line from the old school – Ulf Sensei, Saito Sensei and O´Sensei.
Aikido is blending with my life. I work as a taxidriver. I use the blending part of Aikido both in traffic and with handling customers.
At the seminars in Fugelsø Saito Sensei sometimes looked as if he was standing sleeping. And suddenly he woke up and said: "dame". So he was probably not sleeping at all.
*
Elena Bogdanova 1 dan is training at Forum Kishintai in Cologne, Germany, where she lives since four years. Originally she used to train at Takemusu Aikido St. Petersburg. She has been practising Aikido since 2004.
Elena Bogdanova has previously been uchideshi in Gothenburg for two weeks and has also attended seminars with Ulf Sensei in Germany, Lithuania and Russia.
Aikido is a way of thinking and feeling.  If I have a chance to come to Ulf Sensei´s seminars I do. And this time I had a chance to come.
I once tried to go to a Takemusu seminar in Nidda in Germany, training for Mark Sensei and Uta Sensei. It was very complicated to go there by train and bus. It was not clear how I would come back the next day, because there were no buses on Sunday. So I decided that if I did not find someone there who could give me a lift back I would go back with the bus the same day. But as soon as I entered into the dojo someone called me: "What are you doing here?" It was Christiane Schiemann whom I had met at the uchideshi in Gothenburg. So the problem was solved. I got a lift and a warm flat to stay in.
*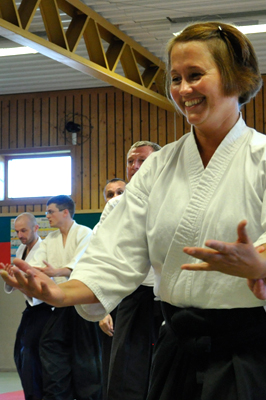 Barbro Hälinen 1 kyu, is from the Gothenburg Aikido Club, Sweden. She has been practising Aikido since 2005.
Barbro has followed Ulf Sensei to several seminars in Denmark, England, Georgia and Russia. You can read about some of them at our website.
Ulf Sensei is an excelent and caring teacher who can explain the principals of Aikido and make them understandable.
Aikido is a powerful and and peaceful experience. It helps me to focus and to be present in the moment. Aikido brings many different people together, whom I never would have met otherwise. It has enrichened my life.
*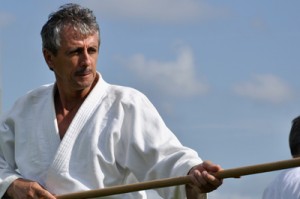 Francisco Navarrete 2 dan, from Queretaro in Mexico, has been practising Aikido since 2001. He is dojoleader for Iwama Ryu Queretaro.
Francisco has never been to Gothenburg before but attended a seminar with Ulf Sensei in Mexico City in 2010.
I came to Gothenburg because I wanted to train for Ulf Sensei and learn from him. Some people think it´s strange that I come from so far away as Mexico to train Aikido – but I like it.
I find in Aikido a personal way to develop myself. In the beginning I felt frustration because I didn´t know the movements. In the same time I found a feeling of joy when I could understand and develop myself. A way of life.
*
Oliver Thorne is from Lancaster Aikido Club, England. He has been practicing Aikido since 2004, and graduated to 2 dan during the sotodeshi in Gothenburg.
This is his second visit at the Gothenburg Aikido Club. Last time was at the New Year Seminar 2011. Before that he attended a seminar with Ulf Sensei in London 2010.
Aikido allows me to be what I am and really to discover myself. Now I am a student and I have a vacation. And the best way to spend the vacation is with Aikido.
When I began with Aikido I went directly into an uchideshi programme with Patrick Cassidy Sensei in Switzerland, for nine months. For the next five years Aikido was everything. I trained a lot.
Previously I had been doing other martial arts, and at that time Karate. I began to read about Japanese martial arts and picked up The art of peace by O´Sensei. I began to search for an Aikido dojo and two weeks later commenced an uchideshi programme in Switzerland. It wasn´t until after a few days of training that I realized that before arriving in Switzerland I had actually never seen Aikido before.
*
Ronny Irekvist Sensei 5 dan, from Trollhättan in Sweden, has been practising Aikido since 1975. He is dojoleader for Trollhättans Aikidoklubb.
Ronny Sensei started to do Aikido in Skene and was later a member of the Gothenburg Aikido Club for four years. He has since then been uchideshi and sotodeshi at the Gothenburg Aikido Club and has attended several seminars with Ulf Sensei in Denmark, England, Germany, Norway and Sweden.
Coming to Gothenburg as sotodeshi for Ulf Sensei is a good vaccation.
I saw a shihonage 36 years ago. Then I got stuck with Aikido. The more I train, the more I need. Is it a drive or a poison?
When I was an uchideshi in Iwama there was a party with Morihiro Saito Sensei. One intellectual minded person asked him: "What is the Iwama style of Aikido?" Sensei answered without hesitation: "It is hard training and to live life."
*
Edgaras Indra 3 dan, from Kaunas in Lithuania, has been practicing Aikido since 1993. He is dojoleader for Aiki Shuren dojo Kaunas.
The first time Edgaras came to the Gothenburg Aikido Club as uchideshi was 1999. Since then he has been uchideshi, sotodeshi and has participated in seminars here many times. He has also been to several seminars with Ulf Sensei in Estonia, Lithuania, Russia and the Czech Republic.
The first Aikido Sensei we saw in Lithuania was Ulf Sensei in 1995. When we Lithuanians started to go to Sweden as uchideshi we found that Sweden and Ulf Sensei were like a source of Aikido knowledge. For me it was more important to go here than to go to Japan. Of course I want to go to Iwama, but it is important to come here.
Basically Aikido is axis of my life. It is my profession since seven years. When I started to practise I was 14 years old and I started teaching two years later. It was at a period when I was looking for myself. And I found that in Aikido.
When Ulf Sensei is leading the classes he usually speaks English. But especially when it is uchideshi and he is in his own dojo he suddenly starts to speak Swedish. And one time he said: "If I will start to speak Swedish, please stop me and ask me to speak English." At one class he explained something and he started to speak Swedish for about five minutes. One uchideshi asked: "Please repeat in English". Ulf Sensei said: "Do it slowly".